1978-12-29
From PoliceWiki

On 1978-12-29, The Police performed at the Electric Ballroom in London, England, UK.
Setlists
Brian James All Stars:
Recording information
There's an audience recording of Stewart's set with the Brian James All Stars and of this short Police set. So Lonely and Roxanne are cut.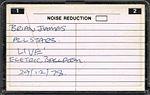 Trivia
Original ads for this concert announced Squeeze, "Brian James All Stars" (incl. Stewart Copeland) and The Addix.
Stewart Copeland remembers: "At the end of the show, Andy & Sting came onstage and we did a few Police songs"
Sam Dodson of The Transmitters remembers: "The Transmitters did support The Police at the Electric Ballroom on that date! So did a Mark Perry pick up band! featuring one Kiff Kiff! The gig was billed as Brian James allstars but he pulled at the last minute so The Police stepped in at the last minute! hence the possible confusion with the date!!"
(In fact it was Squeeze who didn't appear - see the blog in the external links section.)
Alan Lee Shaw remembers: "Later that year I got a call from Brian James who was looking to put a new project together and was now managed by Miles Copeland. He wanted me to play guitar with him and he had a show booked supporting "Squeeze" (another of Miles Copeland's acts) at Camden's Electric Ballroom Dec 28th 1978. We were to go out as "The Brian James All Stars". Stewart was brought in on drums, Kim Turner (The Police tour manager and friend at the time) was on bass and I think Mike Fewings from the Cortinas (another Step Forward band) on guitar. Prior to this show The Police had been over to the US playing small gigs on the East Coast, put together by Ian Copeland and they were starting to get a good response from US college radio. I think with Roxanne they had signed to A&M Records and things were starting to happen for them in the USA. Stewart also had a bit of a solo career going on around that time (a.k.a. Klark Kent) and invited me to go round to his place that he shared with his girlfriend Sonja to have a listen to his solo stuff which he had recorded all the instruments himself. It was good stuff but The Police was to eclipse all that for years to come.
Before the "Brian James All Stars" gig we all rehearsed a few days together in a London studio. I remember Stewart bringing a big cardboard box full of bottles of wine, whisky and brandy etc (that they each (The Police) had been given by A&M as a Christmas present) for us to share. Stewart, I think, Stewart didn't drink at the time. It was at these rehearsals that I got to see and hear just what a great drummer Stewart was, very much a center stage and force of nature type of drummer, technically gifted and great feel. It was a real pleasure to work with someone so good. We did the "All Stars Show" and for some reason I think we ended up playing last on the bill that night. Sting came to the show as I am sure Andy did as well, anyway, Sting, Andy and Stewart came on to do some Police songs as an impromptu. I remember having a brief chat with Sting after the show and you could feel things were about to happen for them."
See also
External links
Transmitters website mentions this concert
References
sources: ads, Stewart Copeland, Sam Dodson (The Transmitters), Alan Lee Shaw