The Police
From PoliceWiki
For other uses, please see The Police (disambiguation)
The Police
Background information
Origin:
London, England
Years active:
1977 - 1984
Reunions: 1986, 2003, 2007 - 2008
Label(s):
Illegal Records, A&M Records, Polydor
Associated acts:
Last Exit, Curved Air, Strontium 90, Animal Logic, Oysterhead, Gizmo
Website:
http://www.thepolice.com
Members
Stewart Copeland
Sting
Andy Summers
Former members
Henry Padovani
Band members
Band history
Early years (1976–1978)
It's 1976,
and this thing called punk rock
has just raised its ugly head in London.
Sting, Henry Padovani, and I
have formed a group called: The Police.

- Stewart Copeland, Strange Things Happen
The Police were the brainchild of drummer Stewart Copeland, who by the end of 1976 saw that the progressive rock scene of excess in music and budget, as typified by his current group Curved Air, was dying. Copeland believed that the future lay in the growing punk scene and determined that he should form such a group himself, even having a name for it (The Police) before having recruited any other members.
On 1976-12-05, Curved Air performed one of their last concerts at Newcastle Polytechnic and Copeland was then taken by friend Phil Sutcliffe] to see one of Phil's favored bands, Last Exit, perform at St. Mary's College. Copeland didn't care for the music, but was impressed by their bass player Sting--mostly for his skills with his instrument, although it was a bonus that he could sing as well. After the performance, Copeland met Sting for the first time and invited him to come to London to join his group.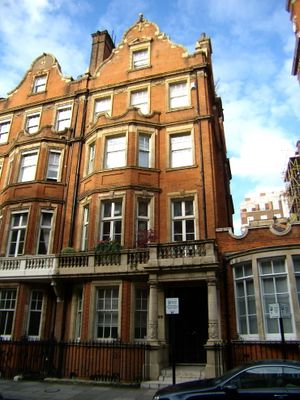 Copeland met guitarist Henry Padovani near the same time at the Roxy Club in London and also invited him into his forming band. At first Padovani and Copeland jammed some with Stewart's brother Ian and Curved Air's singer/Stewart's girlfriend Sonja Kristina. In January of 1977, Sting did come to London and began rehearsing with Stewart and Henry at Stewart's squat at 26 Green Street, Mayfair. Their first photo-session as a band would take place on 1977-01-22 and on 1977-02-12 they recorded their first single, "Fall Out"/"Nothing Achieving".
In March and April of that year, Copeland, Padovani and Sting toured as a support act for Cherry Vanilla as well as Wayne County & The Electric Chairs. Stewart's brother Miles arranged getting them on the Cherry Vanilla tour as she had only come to England to tour with her guitarist and needed a bass player and drummer--hence Stewart and Sting could perform double-duty. In May, ex-Gong musician Mike Howlett invited Sting and former Eric Burdon And The Animals guitarist Andy Summers to form Strontium 90 with him, as a project band for a Gong reunion. The drummer Howlett had in mind for this band, Chris Cutler, was unavailable to play, so Sting brought along Stewart. Strontium 90 recorded several demo tracks at Virtual Earth Studio, and then performed at a Gong reunion concert in Paris on 1977-05-28. The foursome also performed at a London club as "The Elevators" in July 1977, but found it difficult to work as a band with two bass players.
The Police were not finding great success as most of their audiences were not buying into their "punk" act. Indeed, the only member of the band seen as truly punk was Padovani, with his more-limited guitar skills, which Sting felt was hampering their abilities to play better material. Summers was a much more experienced guitarist and wanted in The Police, and Sting wanted him there as well. Copeland was not convinced this would do their shaky punk credibility and good, but briefly they tried performing as a 4-piece band with two guitarists. Soon after an aborted recording session with producer John Cale on 1977-08-10, Sting told Padovani that it had been agreed upon by the others that he should leave the band. The remaining lineup of Copeland, Sting, and Summers would endure for the rest of Police history.
Sting felt freed at this point to continue writing newer, more complex material for the band to perform and try to put together for an album. Still desperate for money, Sting was taking modeling gigs in print and for television commercials to help pay the bills. The bleached-blond hair that would become a trademark of the band was a lucky accident, originating in February 1978. They were asked to do a commercial for Wrigley's Spearmint chewing gum on the condition that they dye their hair blond. Whether the commercial ever aired or not is unclear; an actual copy of it has never surfaced to date.
First three albums (1978–1980)
The Police began working on their first album, Outlandos d'Amour in early 1978 at Surrey Sound Studios. Stewart Copeland's older brother Miles Copeland III heard "Roxanne" and for the first time became excited about Stewart's band, and immediately got them a record deal with A&M Records. The album was released in November 1978 and was initially a flop, due to low exposure and an unfavorable reaction from the BBC to its first two singles, "Can't Stand Losing You" and "Roxanne". However, the band's low-budget tour of America in support of the album made people across the country aware of the band, and especially "Roxanne". The song received more and more airplay from radio DJs in both the United States and Great Britain through April 1979. When A&M re-released "Roxanne", it went to #12 on the UK charts, and "Can't Stand Losing You" followed, eventually hitting #2. The album itself peaked at #6.
In October 1979, the group released their second album Reggatta de Blanc (also recorded at Surrey Sound Studios), which was a major seller throughout Europe. The album topped the British charts for four weeks and spawned the UK number-one singles "Message in a Bottle" and "Walking on the Moon". The instrumental title track won the Grammy Award for Best Rock Instrumental Performance.
In March 1980, the Police did their first world tour; the band played such areas as Mexico City, Mexico; Bombay, India; and Egypt, which seldom hosted foreign performers. The tour provided great photo-opportunities for the band which helped drive their success and turn them into "teen idols", with many of the photos showing up in their official fan magazine, The Police Official File. In May, A&M in Great Britain released "Six Pack" an expensive package containing the five previous A&M singles (not including "Fall Out") in their original sleeves plus a mono alternate take of the popular album track (from Reggatta de Blanc) "The Bed's Too Big Without You" backed with a live version of the Outlandos d'Amour track "Truth Hits Everybody." It reached #17 in the U.K. singles chart, although chart regulations introduced later in the decade would have classed it as an album.
Pressured by their record company for a new record and a prompt return to touring, the Police released their third album, Zenyatta Mondatta, in the autumn of 1980 after frenzied recording sessions at Wisseloord Studios that summer. The album gave the group their third U.K. #1 hit, "Don't Stand So Close To Me", and "De Do Do Do, De Da Da Da", which charted in the United States. In subsequent interviews, Sting said he regretted the rushed recording for the album. However, many critics would later cite it as one of their strongest efforts. The instrumental "Behind My Camel," written by Andy Summers, won the band a Grammy for Best Rock Instrumental Performance. The song "Don't Stand So Close To Me" won the Grammy for Best Rock Vocal Performance For Duo Or Group.
International stardom (1980–1983)
Buoyed by the success of the band and his status as the band's most prominent "face", Sting was becoming a major star, and he started trying to establish a career beyond The Police by branching out into acting. He had made a well-received debut as the 'Ace Face' in 1979's Quadrophenia, followed by a role as a mechanic in love with Eddie Cochran's music in Chris Petit's Radio On. Tensions within the band, however, were increasing, stressed by the pressures of worldwide publicity and fame, creative differences, conflicting egos, and the band's financial success.
The Police's fourth album, Ghost In The Machine was co-produced by Hugh Padgham and recorded at George Martin's AIR Studios on Montserrat, in an attempt to get away from meddling record company pressure and interruption. It was released in October of 1981. The album featured a different, thicker sound than their previous works, with layered horns, synthesizers, and vocal textures. It spawned the hit singles "Every Little Thing She Does Is Magic", "Invisible Sun", and "Spirits In The Material World". As the band were unable to agree on a cover picture, the album cover had three red pictographs, "digital" likenesses of the three band members in the style of segmented LED displays, set against a black background.
The group took a sabbatical in 1982, with Sting pursuing his acting career, co-starring with Denholm Elliot and Joan Plowright in the Richard Loncraine film version of Dennis Potter's play Brimstone and Treacle. He also had a minor solo hit in the United Kingdom with the movie's theme song, "Spread A Little Happiness" (which appeared on the Brimstone and Treacle soundtrack, along with three new Police tracks). Summers recorded his first album with Robert Fripp, I Advance Masked.
The Police released their fifth album, Synchronicity, in 1983 after another recording session at AIR Studios. Notable songs from that album include "Every Breath You Take", "Wrapped Around Your Finger", "King of Pain" and "Synchronicity II". The Synchronicity Tour began in Chicago, Illinois in July 1983 at the original Comiskey Park, and ended in Melbourne, Australia in March 1984 at the Melbourne Showgrounds. The event featured five bands, including Simple Minds, Flock of Seagulls, The Fixx, Joan Jett and the Blackhearts, with The Police topping the bill.
Except for "King of Pain", the singles were accompanied by music videos directed by Godley & Creme. This album hit #1 in both the U.K. (where it debuted at #1) and the U.S. It stayed at #1 in the U.K. for only two weeks and in the U.S. for 17 weeks. It was nominated for the Album of the Year Grammy, but lost to Michael Jackson's Thriller. The Police beat out Jackson in one category: "Every Breath You Take" won the Grammy for Song Of The Year, beating Jackson's "Billie Jean". "Every Breath You Take" also won the Grammy for Best Pop Performance By A Duo Or Group With Vocal while "Synchronicity II" won the Grammy for Best Rock Performance By A Duo Or Group With Vocal. "Every Breath You Take" also won the American Video Award for Best Group video and nabbed two Ivor Novello Awards for the categories Best Song Musically & Lyrically and Most Performed Work.
In 1982 - 1983, Stewart Copeland composed the musical score for Rumble Fish, a film directed and produced by Francis Ford Coppola from the S.E. Hinton novel. A song released to radio on A&M Records "Don't Box Me In", a collaboration between Copeland and singer/songwriter Stan Ridgway, received significant airplay upon release of the film that year.
Break-up or not? (1984–1986)
After the Synchronicity tour ended in March 1984, the group disbanded, although under pressure from their management and record company they never officially announced that they had broken-up. Each band member, however, went on to pursue his own solo career and projects. In 1984, Andy Summers released a second album with Robert Fripp entitled "Bewitched." In 1985, Sting released a successful solo debut LP, the jazz-influenced The Dream of the Blue Turtles. Stewart Copeland released his video film and soundtrack album "The Rhythmatist".
In June 1986, the trio reconvened to play three concerts for the Amnesty International A Conspiracy of Hope Tour. In July of that year, a tense short-lived reunion (which Copeland arrived at with a broken arm thanks to a polo accident) in the studio produced only subdued, over-synthesized re-recordings of "Don't Stand So Close To Me" and "De Do Do Do, De Da Da Da". The former was released in October 1986 as their final single together in the form of "Don't Stand So Close To Me '86" and appeared on the compilation Every Breath You Take: The Singles, and made the UK Top 25.
The next twenty years (1987–2006)
Each of the band members continued pursuing their solo careers through the late 1980s - 2000s. Sting continued recording and touring as a solo performer to great success. Andy Summers also recorded many albums, from the more experimental rock sound of 1996's "Synaesthesia" to more traditional jazz as featured on 2000's "Peggy's Blue Skylight". Stewart Copeland became a prolific producer of movie and television soundtracks, as well as work for opera and symphony. He also recorded and toured with two new bands, Animal Logic and Oysterhead.
Several events did bring The Police members back together, albeit briefly. In 1992, Sting wed his long-time companion Trudie Styler. Summers and Copeland were invited to the ceremony and reception. Aware that all band members were present, the wedding guests pressured the trio into playing, and they ultimately performed "Roxanne" and "Message In A Bottle". Also in 1992, Andy Summers served a brief stint as Musical Director on the short-lived "Dennis Miller Show". On 2003-03-10, The Police were inducted into the Rock and Roll Hall of Fame and performed "Roxanne", "Message In A Bottle," and "Every Breath You Take" live, as a group. That autumn Sting released his autobiography, Broken Music, which focused on his early life up through the beginnings of The Police.
In 2004, Henry Padovani released an album with the participation of Stewart Copeland and Sting in one track, reuniting the "original" Police members in a performance for the first time since 1977. In 2006, Stewart Copeland made a rockumentary about the band called Everyone Stares: The Police Inside Out, based on Super-8 filming he did when the band was touring and recording in the late 1970s and the early 1980s. In October 2006, Andy Summers released One Train Later, an autobiographical memoir detailing his early career and time with the band.
The reunion tour (2007–2008)
For decades, the question debated by many fans was if the band would ever reunite for a new album and/or tour. Rumors that such might actually be in the works began surfacing near the end of 2006/early 2007 on fan messageboards such as Ask Uncle Ian. The timing seemed right, as the band would celebrate its 30th anniversary in 2007, but many remained deeply skeptical that much would be done beyond re-releasing their old catalog and some other kinds of marketing.
On 2007-01-22, the punk wave magazine "Side-Line" broke the story that The Police would reunite for the Grammys, adding that the song performed would be "Roxanne".[1] "Side-Line" also announced in its news coverage that The Police were to embark on a massive tour bringing them to cities all over the world. The band opened the 49th Annual Grammy Awards on 2007-02-11 in Los Angeles, California, announcing "We're The Police. And we're back!" before launching into "Roxanne." The reunion tour was officially announced the next morning, 2007-02-12, at a press conference broadcast live on television and the internet from the Whisky A Go Go. Besides answering questions, the band performed 4 songs that morning to an audience of reporters, friends, and lucky fans who had won passes to the event.
They opened their Reunion Tour in Vancouver on 2007-05-28 in front of 32,000 fans at one of two nearly sold-out concerts. Henry Padovani joined the band on stage for the final encore of their show in Paris on 2007-09-29. The Police as a 4-piece band played "Next to You" from the band's first album Outlandos d'Amour. In October 2007, the group played the largest gig of the reunion tour in Dublin, Ireland, in front of 82,000 fans. They continued their reunion tour in 2008, and locations included New Zealand, Australia, Singapore, Macau, Japan, Canada, US, France, Germany, Norway, Denmark, UK, Serbia, Poland, Argentina and Brazil, where they played for 75,000 people. Several large festivals were included in the tour as well such as the Isle of Wight Festival and Hard Rock Calling.
In February 2008, the band announced that once they were finished touring, they would break up again. According to Sting, "There will be no new album, no big new tour, once we're done with our reunion tour, that's it for the Police."[2]
The final show of the tour was held 2008-08-07 at Madison Square Garden in New York City. The group earlier announced the show while donating $1 million to New York Mayor Michael Bloomberg's initiative to plant one million trees in the city by 2017.[3] Proceeds went towards arts programming for the city's two public television stations. During the entire tour they sold 3.7 million tickets and grossed $358 million, making it the third highest grossing tour of all time. The Police and the store Best Buy announced 2008-08-04 that they would release a collector's set entitled "Certifiable". The set includes an entire concert recorded live in Buenos Aires, Argentina on the tour and was issued in the following packages: 2DVD/2CD, 1 Blu-Ray Disc/2CD, and 3 premium 180-gram vinyl LPs with MP3 file key. The set also includes bonus footage, including a documentary shot by Stewart's son Jordan entitled "Better Than Therapy". The set was released on 2008-11-11 at Best Buy.
Discography
Main article: Discography (The Police)
Studio albums
Awards & Honors
Quotations and Trivia
This section needs more information.
See also
External links
References
Copeland, Stewart. Strange Things Happen. HarperStudio, 2009.
John, Miles Tobler. The Police: A Visual Documentary by Miles. Cherry Lane Music, 1981.
Padovani, Henry. Secret Police Man. Pen Press, 2010.
"The Police." Wikipedia. Wikimedia Foundation, Inc. 24 Apr. 2008 <http://en.wikipedia.org/wiki/The_Police>