1979-05-16
From PoliceWiki
1979-05-16
a photo from today - copyright Colleen Bracken
a photo from today - copyright Colleen Bracken
a photo from today - copyright Colleen Bracken
today's page from support act Wazmo Nariz' tour itinerary
Performance summary
Artist performing:
The Police
Tour:
1978-1979 Outlandos d'Amour Tour
Venue:
Roxy Theatre
Location:
San Diego, CA, USA
Support acts:
Wazmo Nariz
Ticket prices:
TICKET PRICES

On 1979-05-16, The Police performed at the Roxy Theatre in San Diego, CA, USA.
Setlist
Recording information
There's a great recording of this concert ! Here is the station tape with erroneous date.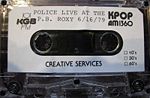 Trivia
Message In A Bottle was played at the soundcheck.
See also
This section needs more information.
External links
more information about San Diego concerts: http://www.sandiegoconcertarchive.com/
References
sources: Stewart Copeland's diary, photos, internet, Wazmo Nariz members' information